Posted on 05 February 2021
No business owner ever hopes for an emergency, but every business should always be prepared for one. A significant aspect of any business safety evacuation plan is an Exit and Emergency Lighting System (EEL). Mandated by the Australian government an EEL is a battery-operated system which helps ensure the safety of employees and visitors by providing illuminated evacuation paths during situations such as blackouts or electrical failures.
The Where and the Who?
The Australian Standard AS2293 states that emergency lighting is required in any commercial building that will be occupied by employees, customers, or the general public. This can include office buildings, warehouses, shopping centres, hospitals, and multi – residentials to name a few.
Exit Signs: An exit sign must be clearly visible to all occupants and illuminated at all times. They can be found directly above all exits, at the top of a staircase and at any point
in which a change of direction occurs, so occupants can be easily guided to an evacuation point.
Emergency Lights: These lights will be periodically installed throughout the building. The location will vary based on ceiling height and building shape.
The standard as well as the National Construction Code state that a suitable qualified engineer together with an electrician shall provide guidance on installation and maintenance of emergency and exit lighting systems. Furthermore, business owners are legally required to contact a qualified electrician every 6 months, to test your system and ensure that it runs for 90 minutes on battery, after a loss of power has been simulated. Each of these tests must be logged and any discovered faults must be corrected.
The Test
Maintaining the compliance of an emergency lighting system is the responsibility of the building owner or tenant. Compliance also consists of keeping devices clean, inspecting for damage, ensuring replacement parts are the proper match and making sure directional arrows on exit signs are labelled properly.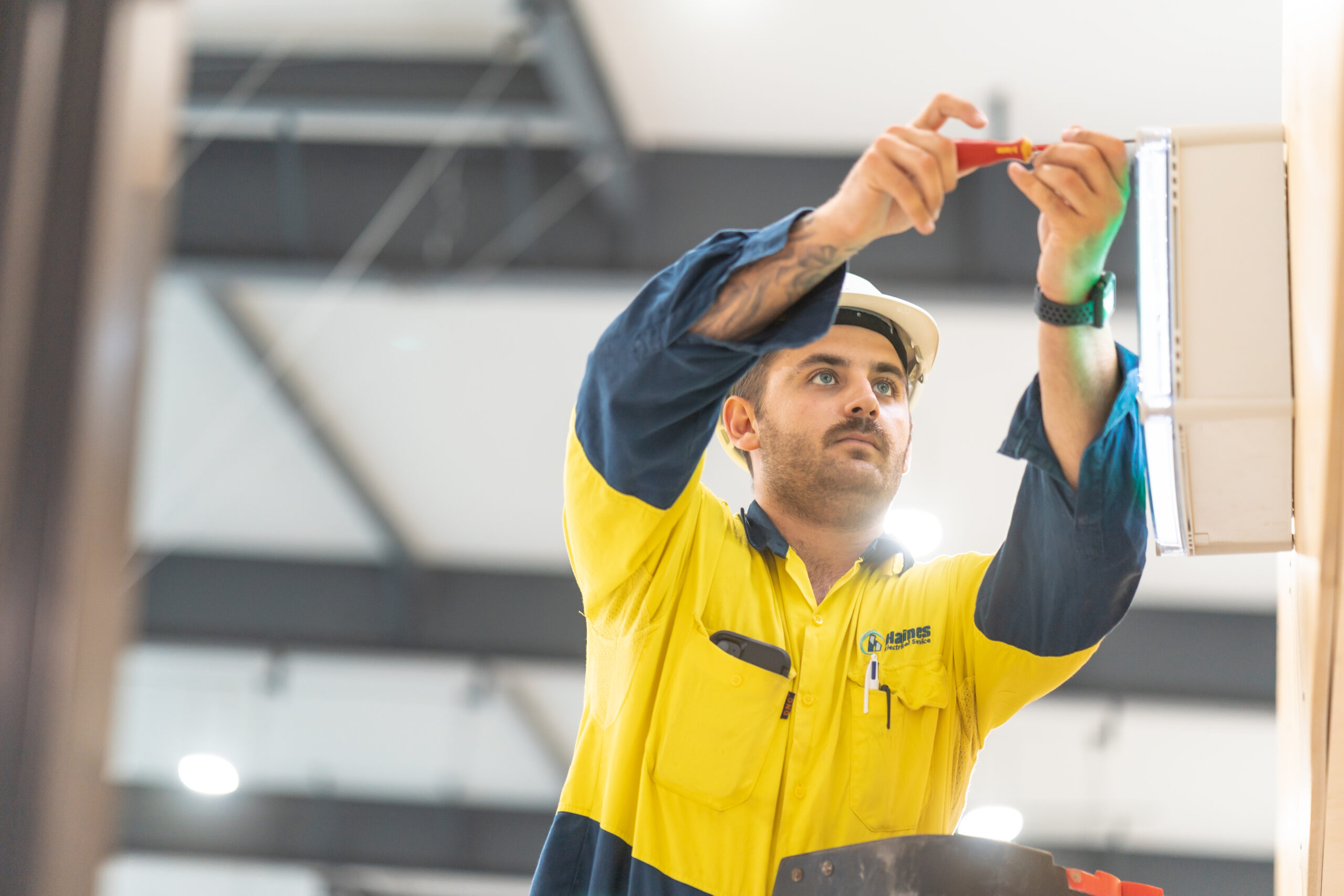 The Haines Promise
At Haines Electrical Service, safety is the number one priority. That's why we offer a comprehensive exit and emergency lighting maintenance program that represents exceptional
value for money.
As your electrician, we will take care of everything from quoting supply, conducting installationand maintaining the logbook for your site.

Every building holds different requirements and therefore requires a different style of equipment. You can get in touch with us to further discuss the specific details of your business and how we can best help.
Manual Testing vs. Automatic Testing
When conducting compliance testing an electrician will choose one of two options based on the systems in your building.
Manual Duration Testing: On a manually tested system, the exit and emergency lights are wired to a test timer. Your electrician will walk the job site and ensure all fittings have power. Any dark bulbs will be replaced. Then the test timer will be activated, after 90 minutes a second inspection will be conducted to ensure all lights are still working properly. This process allows for the purchasing of cheaper fittings, but such labour intensive work can end up being more expensive and is not necessarily always 100% accurate.
Self-Testing Exits and Emergency Lights: A self-testing system is fitted with a built-in timer, which automatically tests your system every 6 months. After the test has been completed each fitting will send a pass/fail notification to the LED status indicator. Unless your building has fluorescent bulbs in place, the only time a walkthrough is
needed is when the results are being recorded. This process is more time-efficient and considered to be cheaper to test by more than 50%. It also makes identifying issues easier and keeps logbooks highly organised. The main fault within this system is the physical inspection required to collect test results. Self – testing systems can lead to a slightly higher cost at purchase but will ultimately last longer and therefore cost less in the end.
Computer Monitored Systems: Large sites will benefit from computer monitored systems. By having a server conduct regular tests, the need for a person no longer exists. The system schedules a test from a remote location and then sends results to a management system which logs the final results. The pros of this system are no electrician required, having remote access to detailed information and full control over when testing occurs. The main con is the high cost and the need to ensure your fittings are compatible with your emergency lighting system.
Unfortunately, emergencies happen every day and they are almost always unexpected. That's why the team at Haines Electrical Service wants to ensure that you have systems in place to ensure the safety of your employees, your customers and you. We promise to provide only the highest quality of work in an efficient and organised manner. Plus, once you do business with Haines we will be with you for life. Taking care of all your routine check-ups, keeping the logbooks up to date, and finding and addressing any maintenance issues straight away.

If you're a new business owner in need of an evacuation plan or a long time owner in need of a system upgrade, no matter what size project, big or small, we deliver on our promises: On time, every time. So pick up the phone and let Haines Electrical Service answer your questions today.